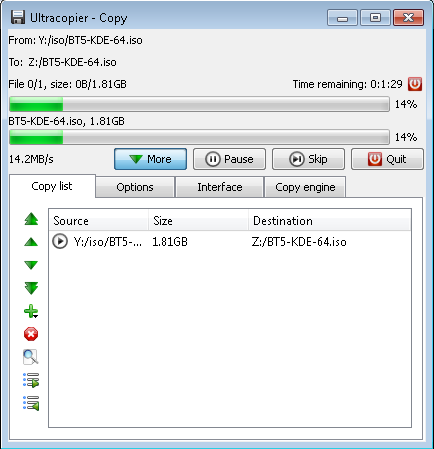 UltraCopier 2.2.4.9
Ultracopier adalah aplikasi maju dan mudah digunakan yang direka untuk membolehkan pengguna menyalin atau memindahkan fail dan folder dengan beberapa klik. Tool ini dibangunkan untuk menyediakan batasan kelajuan, pengurusan ralat / kolisi, terjemahan dan banyak lagi fitur menarik. UltraCopier 2.2.4.9.
Features:
Run everywhere
Works with all devices: hard drives, usb keys, cdroms, … Cross-platform compatibility: Windows, Linux, and Mac.
Customisable
On-demand customisation through a large choice of skins and plugins. Available in many languages.
High performance and control
Ultracopier is faster than most default system tools. It provides many advanced features such as: start/resume the copy process, speed limitation, search through the copy list ..
Error and collision management
Ultracopier predicts internal and external errors. It results in detailed information dialogs which allow you to pick up the best solution (eg. always overwrite, overwrite if newer, …).
What's New:
Improve some code, disable drag'n'drop file move (with shift on windows) due to windows send file to trash, without shift will copy or move depending of window mode (copy or move).
Supported OS:
Screenshots: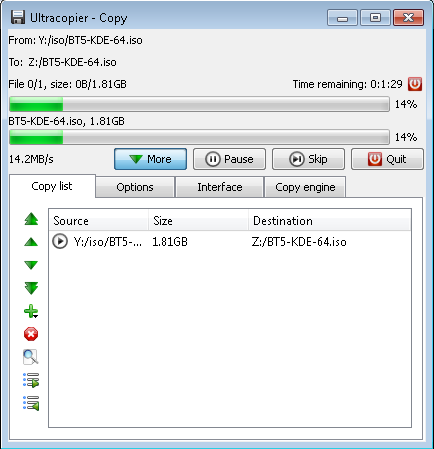 Download Here:
⇒ [15.1MB] UltraCopier 2.2.4.9 | Mirror